Price momentum shares trend based on weekly performance
Alkyl Amines Chemicals (NSE: ALKYLAMINE) is among top five shares which have performed consistently over period of eight weeks have delivered positive price returns. All the top five shares have delivered positive price return on 7-8 weeks. Karda Constructions (NSE: KARDA) being the best  stocks which delivered positive returns on eight out of eight traded weeks during Jan-Feb period.
But ALKYLAMINE was the stock that not only delivered one of most consistent price returns during seven out of eight traded weeks but also gave highest returns. On weekly performance shared gave positive returns on seven out of eight traded weeks.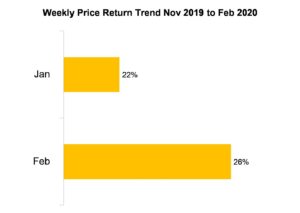 ALKYLAMINE stock price witnessed 53% rise during this period from Rs 1,077 on 30Dec, 2019 to Rs 1,648 end of last week's trading on 20 Feb. During month of January the stock price rose by 22%. During Feb the stock price rose further on the quarterly results announcement and anticipated dividend which fueled price rise leading to 26% rise in its stock price.