Best Performing Large Cap Mutual Fund Schemes
Only a few of the large-Cap MF schemes with highest Assets Under Management (AUM) have delivered consistent growth performance. Finding best performing large cap mutual fund amongst the largest AUM over a period of time consistently is definitely a difficult task.
Top 10 Large Cap MF Schemes as on 7 Sep
Source: AMFI
Best Performing Large Cap in Near Term Period
Axis Bluechip Fund and Canara Robeco Bluechip Equity Fund schemes are two most consistent performers in the near term period. Both of these fund schemes have remained in the top five performers for 1-yr and 3-yr investment return.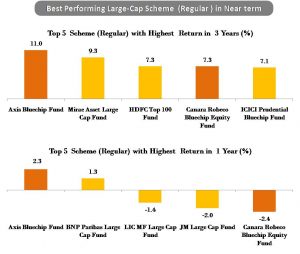 Best Performers in Mid-Long Term Period
When we compare the performances for the mid-to-long-term period of investment comprising of 5-yr and 10-yr investment returns then the names of fund schemes changes. Mirae Asset Large Cap Fund, ICICI Prudential Bluechip Fund and SBI Bluechip Fund emerge as the most consistent performers in the mid-to-long-term investment.