Top ELSS schemes with highest long term Growth, 10%+
There are thirty six ELSS schemes available in the Indian market as on Feb 2020. Together their daily Asset Under Management (AUM) accounts for Rs 97,065 crores. Top ten ranked schemes in terms of AUM account for 83% of overall AUM in India, remaining 26 schemes just account for 17%. These top ELSS schemes also have the high growth performers.
Axis long term Equity is the largest ELSS scheme in terms of AUM with Rs 22K crores under its belt followed by Nippon India Tax Saver (ELSS) Fund and Aditya Birla Sun Life Tax Relief 96 with Rs 10k+ crores under their kitty. These are only ELSS schemes with over Rs 10K crores AUM.
SBI Magnum Taxgain and HDFC Taxsaver are the only two schemes among top five ELSS schemes which have delivered less than 10% growth in ten year phase. Remaining nine schemes have delivered over 10% return during 10year term. Mirae Asset Tax Saver Fund is relatively new ELSS scheme which is less than five years old.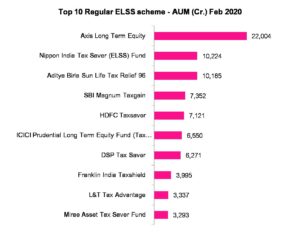 Axis Long Term Equity is not only the biggest Regular ELSS scheme but is also the best long-term  ELSS scheme which has delivered 17.4% growth during 10year period and 10.5% during 5year period. Nippon India Tax Saver (ELSS) Fund is the only scheme to perform miserably and deliver a meager 1.5% growth during 5year period.
DSP Tax Saver is the second best scheme in terms of delivering long-term growth, the scheme has delivered 13.3% on 10year period and close to ten percent during 5year period at 9.7%. Both Aditya Birla Sun Life Tax Relief 96 and ICICI Prudential Long Term Equity Fund (Tax Saving) have delivered over 12% returns on 10Year period but in 5year period they have been laggard at 6-8%.