Top ELSS Direct Schemes with Highest Growth lowest NAV as on 04 Feb 2020
Direct ELSS have been in the market for quite some time aided by the online platforms placed by asset management companies bypassing distributors and commission rates, over period of time they have been gaining investors' interest as minor change in initial returns compounds over period of time.
Bottomfishing has identified top five ELSS Direct schemes which have NAV under Rs 60 and have consistently delivered over double digit returns at different point of time. All of these schemes have delivered over 10% return during 1yr/3yr/5yr period, displaying their ability to deliver higher returns from short term to medium term period.
Motilal Oswal Long Term Equity Fund and JM Tax Gain are two direct ELSS schemes which are cheapest in the market but are high performing schemes; both of these schemes have NAV around Rs 21.  JM Tax Gain is also one of the smallest schemes in terms of Asset Under Management (AUM) which is below Rs 100cr during beginning of February 2020.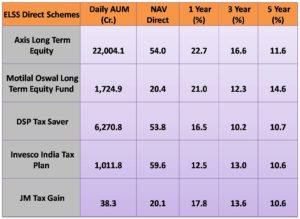 Axis Long Term Equity and DSP Tax Saver are two large fund schemes which have AUM over Rs 6000 crores followed by  Motilal Oswal Long Term Equity Fund & Invesco India Tax Plan which have AUM above Rs 1000 crores. Both Axis Long Term Equity and DSP Tax Saver have NAVs under Rs 55.
Axis Long Term Equity is the best Direct ELSS scheme which has delivered highest returns all in phases, its investment return is highest in the short-term period where it has delivered over 22% return in one year period. Axis investment returns have remained between 11% & 17% in medium term duration. Motilal Oswal Long Term Equity Fund comes second with 21% return in past one year and returns ranging between 12% & 15% during 3yr to 5yr period.
Remaining three schemes have delivered returns which are less than 20% during one year period but greater than 10% during 3yr and 5yr period. JM Tax Gain is the cheapest and best performing direct scheme which has delivered return close to 20% during past one year period and its investment returns during 3yr period is one of the highest amongst five schemes at 13.6%  Invesco India Tax Plan has delivered returns similar to JM Tax Gain during 3yr & 5yr period.