Thyrocare (THYROCARE) had tremendous run post its IPO listing in 2016. It reached its peak in 2017, rising by almost 70% of its listing value to Rs753.  Since then the stock has declined from its all time high and has never tested its peak value. In past two years price erosion has been consistent and it tumbled to near its listing price this year but regained some value between June and Sep 2019. Between September and December 2019, it started its upward trend, which has continued in January 2020.
The Inconsistent Performer
Thyrocare was listed in 2016 and like most of the companies it delivered results above the market expectations which led to its stock prices soaring in the market.  Since 2017, the company has struggled to deliver consistent performance. Its topline growth has continued to decline in past three years, from delivering 31% growth it has come down to just above double digit at 12%. Company has struggled to manage its growth trajectory in the highly competitive medical services delivery business.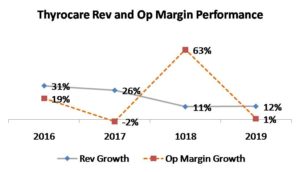 Company has also struggled to deliver consistent bottomline growth. The very next year of its listing its Op Margin growth was negative and again in last financial year it declined to just one percent. Company has struggled to manage its operations while driving growth.
Vs Peers
Thyrocare may not be consistent with its performance but it still operates on high margin and when compared with its nearest competitors, its margin performance stands out. Company has highest PBIDTM compared to its nearest competitors such as Metropolis and Dr Lal pathlabs.
It leads competitors in terms of delivering high margin business and is far ahead in terms of managing its profit margin despite failing to grow it in subsequent years.
Is Thyrocare ready to rebound?
The current year quarterly performance of Thyrocare has remained muted with single digit revenue growth reported by company in all three quarters of FY 19-20.
Investors are still to be moved by the current year performance of Thyrocare to take a note of it, the average traded volume of its listed stock on NSE has remained at sub 30k level for past sixt months of 2019. Last quarter of 2019 saw its average traded volume increase to 33K but in month of December the average traded volume of Thyrocare remained at 28K level a meager 2k more than its six months average.
In terms of price performance, Thyrocare is Trading is above its 200Day Average of Rs 499, which is still positive for long term investor, but will take last quarterly results to gauge  if investor sentiments will change for the stock.