Nifty Top 10: JBCHEPHARM, MGL, IGL, & Others with upto 1928% Vol Gains
Indian capital markets witnessed topsy-turvy ride during last week with intense trading throughout the week but pared some gains at the end of the week.  A large number of stocks witnessed major spike in their traded volumes during the week. Top ten stock list was dominated by Nifty250 stocks which accounted for six out of ten stocks remaining four were from Nifty500 Index. Top 10 includes JBCHEPHARM & others.
Top ten volume momentum stocks were from varied industries, Energy, Financial Services, Pharma, Consumer Goods & Services sector.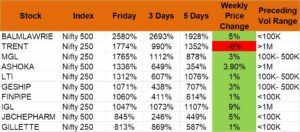 Source: NSE
Balmer Lawrie and Company (NSE: BALMLAWRIE) was the topmost stock with highest volume momentum. BALMLAWRIE stock volume spiked by 1928% during last week. Its stock price rose by 5% to Rs 107.75 from 102.35. Trend Ltd (NSE: TRENT) was the only stock that delivered negative price returns during the week. TRENT stock sank by 6% during the week due to negative momentum.
Mahanagar Gas (NSE:MGL) was one of the two energy stocks in the top ten list. MGL stock witnessed 878% spike in the traded volumes. But, MGL delivered highest price returns of 13%. MGL stock rose from Rs 938 to Rs 1056. Indraprastha Gas Limited (NSE:IGL) stock registered 1107% spike in traded volumes. IGL stock delivered 9% price gains during the week.
J B Chemicals and Pharmaceuticals (NSE: JBCHEPHARM) was the only pharma stock in the list. JBCHEPHARM registered only 449% spike in the traded volumes but delivered 5% price gains. JBCHEPHARM stock price rose to Rs 1000 from Rs955.
Ashoka Buildcon (NSE: ASHOKA) and Great Eastern Shipping Company (NSE: GESHIP) were two stock that delivered 3% price gains during the week.  ASHOKA stock price rose to Rs 76.5 from Rs 73.6. GESHIP stock price rose to Rs 258 from Rs 251 delivering 3% price gains.
Larsen & Toubro Infotech (NSE:LTI), Finolex Industries (NSE: FINPIPE) and Gillette India (NSE: GILLETTE) witnessed spike in the traded volumes but delivered only 1% price gains during the week.