AxisLong Term Equity continues to remain the largest ELSS scheme in terms of Asset Under Management followed by Reliance and Aditya Birla Sun life.
Only a few of the largest ELSS schemes have made it to the top performing schemes with highest returns delivered from short to long-term period.
Top Performers – Near Term
Almost all the Regular ELSS schemes have yielded negative returns in past one year period and the performance has remained somewhat better for the 3yr returns period, where they have yielded returns matching PPF or better than that.
Top Performers –Mid to Long Term
Top five ELSS schemes in both 5yr and 10yr return period have yielded double digit returns.  DSP Tax Saver is the only ELSS scheme which has occupied top five positions for both 5yr & 10yr returns period.
All top five schemes for 10yr returns period have yielded returns ranging from 14%-13%, Investco and DSP being the leaders with 14% returns.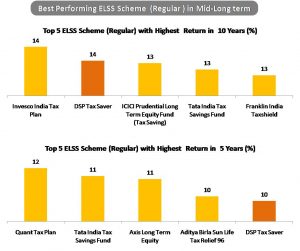 Schemes with Double Digit Returns