Top Stocks with 50%-99% Price Returns in June
Fourteen stocks witnessed steep rise in their stock price during past eleven days of the month. There were number of stocks with 50%-99% Price Returns in the month itself. Three of these stocks were from Nifty500 & Nifty250 index. Remaining nine stocks were not listed in any indices. RENUKA, ADANIPOWER & HCL-INSYS were the only index stocks in the list.
Most of these stocks were penny stocks priced under Rs 100. LPDC was the cheapest stock price at just Rs 3.6 at the end of the period of assessment.
KM Sugar Mills (NSE: KMSUGAR) was the best performer delivering 99% price returns. KMSUGAR price rose to Rs 36.9 from Rs 18.5.
Table Top Stocks with highest price Returns in June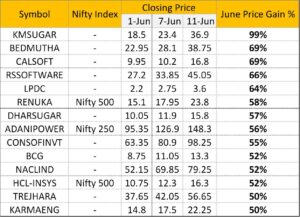 Data Source: NSE
Bedmutha Industries (NSE: BEDMUTHA) and California Software Company (NSE:CALSOFT) were two companies that gained 69% during the period.
Shree Renuka Sugars (NSE:RENUKA), Adani Power (NSE: ADANIPOWER) and HCL Infosystems (NSE: HCL-INSYS) were  the only three Nifty index stocks in the list. Renuka sugars delivered 58% price returns, Adani power 56% and HCL Infosystems delivered 52% price returns during this period.