Fourteen stocks witnessed steep rise in their stock price during past eleven days of the month. Three of these stocks were from Nifty500 & Nifty250 index. KM Sugar Mills (NSE: KMSUGAR) was the best performer delivering 99% price returns. KMSUGAR price rose to Rs 36.9 from Rs 18.5.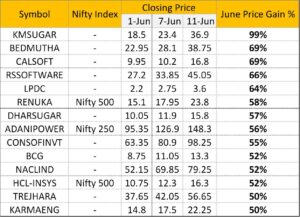 Bedmutha Industries (NSE: BEDMUTHA) and California Software Company (NSE:CALSOFT) were two companies that gained 69% during the period.
Shree Renuka Sugars (NSE:RENUKA), Adani Power (NSE: ADANIPOWER) and HCL Infosystems (NSE: HCL-INSYS) were  the only three Nifty index stocks in the list. Renuka sugars delivered 58% price returns, Adani power 56% and HCL Infosystems delivered 52% price returns during this period.