Will Indian EV Market Fall Prey to Chinese Manufacturers
E-vehicles have been used in India for quite some time now and their presence in urban areas has been steadily increasing, though it is limited to fewer vehicle types and variants. A large number of e-vehicles plying on Indian roads are either Two-wheelers or Three-wheelers with exception of a few cars from two Indian manufacturers and pilot program of e-buses run by government agencies. Vehicular segment composition of Indian Automobile market is highly skewed as Two-wheelers constitute 79% of the market. Cars including Economy & Premium variants  together account for 14%, Three-Wheelers occupy 4% of the market. Indian EV Market will disrupt these segments and their share in overall market.
Vehicles  Share – Indian Automotive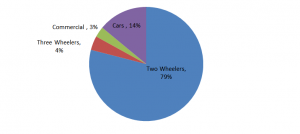 It is the two-wheeler and Three-wheeler market segment which has witnessed influx of e-vehicles. There are between 20-30 e-vehicle players in the two-wheeler segment which comprises of scooters and motorcycles. A large number of them source either complete or most of the equipment from China and some of them are just re-assembled in India. Most of the players are completely dependent on critical equipment such as battery on Chinese imports. Lack of standardization and regulation has played to the hands of Chinese imports; a result strong domestic eco-system is yet to emerge.
Large number of electronic two-wheelers and three-wheelers available in the market are small manufacturers or even startups, while large players such as Hero Motors, Bajaj, TVS have more or less shied away mass introduction of such products and also introduction of multiple variants of e-vehicles. This scenario is creating major challenges for e-vehicle development in India.
Since major players are not enthused about aggressively entering the e-vehicle market or expanding their current portfolio, it has created investment and innovation gap in the upcoming segment as the new players with little and no experience with product, market  and eco-system are trying to play in the market. Without the push from major players in the market it will take far too long to properly penetrate the market and manage investment requirement for stronger R&D to consistently improve product portfolio.
This scenario is akin to domestic mobile manufacturing in India where a number of players cropped up in the launching feature & smartphones, most of the them were assembled with some minor tweaking in hardware and software. As the demand and subsequent competition grew, majority of Indian players were completely dependent on Chinese counterparts for both hardware & software, who exploited the situation as a result in just four years Indian players were wiped off from the smartphone market in their own country.
China again is emerging leader in e-vehicle market both as a market as well as manufacturer of the product, it has developed eco-system and supply-chain for end-to-end design & manufacture of e-vehicles. China has some 500 registered e-vehicle manufactures in the country along with global majors to manufacture and market widest range of e-vehicles in all segments and sizes. Not to be left behind the race Chinese technology giants such as Tencent, Baidu, Alibaba and Foxconn had forayed into the market to deliver smart-cars.
Chinese government has placed policy to become leader in e-vehicles. By 2025, E-vehicles will account for 19% of Chinese vehicle market and by 2040, 200 million e-vehicles or 60% of all vehicles will ply on Chinese roads and they will constitute a third of all e-vehicles globally. Its natural that in next five to six years China with all its high production capacity of e-vehicles will start looking at India as a market and with its well entrenched supply-chain will start absorbing Indian players one after another.