India's Fruit & Vegetable Juice Import Grows at CAGR of 11.4%
India despite being of the largest fruit and vegetable producer, country imports huge quantity of fruit & vegetable juice.  Import market has been growing phenomenally well since past six years. In 2018, India's import of fruit and vegetable juices stood at $47 Mn up from $27 Mn in 2014, value of imports have grown at CAGR of 11.4% during 2014-2018 period.
Fruit and Vegetable juices of different varieties of fruits, Vegetables and mix of both fruit and vegetables accounts for import of juices.  Import of such branded products have become more visible in past few years, also a number of Indian manufacturers and FMCG brand marketers have also started importing fruit juices into India.
Product Import Composition
India's import composition of fruit and vegetable juices comprises of multiple verities of vegetable juices, fruit juices and mix juices. Among the standalone products Apple, Orange, Grape and pineapple are major import items. Apple juice is largest single fruit juice item product segment, it accounts for 25.7% of overall fruit/Veg juice import in India followed by Orange juice which misses top spot for import by a fraction, it is second major single fruit juice import product in India.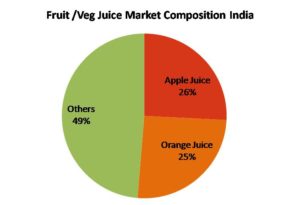 Apple juices are biggest import segment and have also witnessed spike in import, Apple juices imports have also doubled during this period, it stood at $12.1% in 2018 compared to $6.9Mn in 2014, it grew at CARG of12%. Similarly import of Orange juice has grown at CAGR of 13% during 2014-2018 period, in terms of import value the orange juice imports stood at $12.3 Mn in 2018 compared to just $5.7Mn in 2014. The value of orange juice imports have trebled in just five years.
This analysis is based on the data insight generated by Viksa Market Insights, which has strong expertise in Trade Analysis products & services across the globe. Viksa Market Insights also creates customized Trade Analysis Reports on demand and can be reached out for a response – connect@viksa.in