PNBHOUSING, RBLBANK, SHRIRAMCIT & other stocks decline by 34%-13%
As the Indian capital markets remained turbulent due to rise in the number of Covid cases, a number of Nifty index stocks declined by 13% to 34% in the month of December. Majority of the stocks that declined were from Nify250 followed by Nifty100 and Nifty500. Banking stocks were hammered the most as seven out of nine stocks were from Financial Services sector. Other two stock decline were from Chemicals and Consumer goods sector. PNBHOUSING, SHRIRAMCIT & other stocks were major scripts that witnessed massive decline.
RBL Bank ( NSE: RBLBANK) fell by most as it declined by 34% during the month from Rs 199 to Rs 127. Other stocks in the top three were also from financial services. Religare Enterprises (NSE: RELIGARE) declined by 20% to Rs 132.
Shriram City Union Finance (NSE: SHRIRAMCIT) declined by 17% to Rs 1,762.95. Whereas, Shriram Transport Finance Company (NSE: SRTRANSFIN) declined by 16% to Rs 1,217.
Table: Declining Stocks  – PNBHOUSING, RBLBANK, SHRIRAMCIT & other shares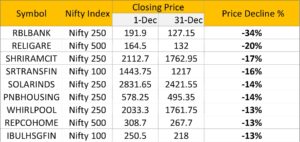 Source: NSE Data
Solar Industries India (NSE: SOLARINDS) was one of non Financial stocks in the list, the stock declined by 14% to Rs 2,421; Whirpool Of India (NSE: WHIRLPOOL) the other non financial services stock which declined by 13%.
PNB Housing Finance (NSE: PNBHOUSING), Repco Home Finance (NSE: REPCOHOME)and India Bulls Housing Finance (NSE: IBULHSGFIN) were housing finance companies that declined by 14% and 13% during the month. PNBHOUSING declined by 14%, REPCOHOME and IBULSHGFIN declined by 13% each.
Disclaimer: This is an analytical representation of a trend and not a buy recommendation. Individuals need to assess the opportunity themselves or with experts.