Nine Nfity500 Stocks with 20%-30% Price Gains in Jan-Feb 2023
Despite the market turmoil over Adani stock crash and impeding  the US Fed rate hike, a few of NIFTY500 stocks managed to outperform the market. In Between January and February 2023, nine stocks from Nifty500 managed to deliver price returns ranging from 20% – 30%.
These nine stocks belonged to consumer durables, information technology, capital goods and financial services sector. Consumer durables and Information technology were the top performing sectors as three stocks from each sector made it to the list.
Table: Nine Nfity500 Stocks with Price Gains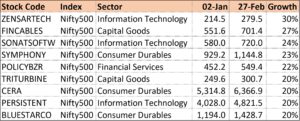 Two out of top three stocks were from information technology sector, led by Zensar Technologies Ltd (NSE: ZENSARTECH). The ZENSARTECH stock delivered 30% price returns in first two months as its stock price scaled from Rs214 to Rs 279. Finolex Cables (NSE: FINCABLES) came second with 27% price gains during the same period. FINCABLES stock price gained from Rs 551 to Rs720. Sonata Software ltd (NSE: SONATASOFTW) are third highest gainer. SONATASOFTW delivered 24% price returns.
Symphony Ltd (NSE: SYMPHONY) was the top performing stock amongst consumer durables. SYMPHONY stock gained 20% in between January and February. Other two performing stocks from consumer durable stocks were Blue Star Ltd (NSE: BLUESTARCO) and Cera Sanitaryware Ltd (NSE: CERA).  Both BLUESTARCO and CERA delivered 20% price returns to investors during this period.
Policy Bazaar (NSE: POLICYBZR) was the only financial services stock in the top performing list. POLICYBZR gained 22% during this period as its stock price rose from Rs 452 to 549.
Triveni Turbine Ltd (NSE: TRITURBINE) was among the four stocks that delivered            20% price returns. TRITURBINE stock price rose from Rs 249 to Rs300. Persistent Systems Ltd (NSE: PERSITENT) was another stock from information technology sector that also delivered 20% price returns during the same period. PERSISTENT stock price went up from Rs 4,028 to Rs 4,821 during first two months of 2023.
Data Source: NSE