Top10: Nifty Index Shares with 20%-41% Price Gains
As the Indian markets continued to scale new heights with uptrend in the GDP numbers, a good number of stocks delivered hefty price gains during month of August. Infact top ten Nifty Index shares delivered price gains of upto 41% during the month.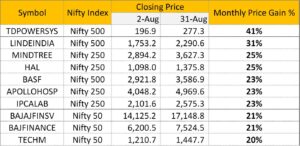 Source: NSE Data
Top ten stocks were highly diversified as Financial Services, IT, Pharma, Chemical and Industrial Manufacturing contributed to the list. Among the indices the top ten stocks were dominated by Nifty250 followed by Nifty500 and Nifty50.
TD Power Systems (NSE: TDPOWERSYS) was the top stock with highest price gains during the month with 41% price gains. Its share price rose from Rs 196 to Rs 277.  Linde India (NSE: LINDEINDIA) was at the second spot with 31% price gain during the month. It along with TDPOWERSYS was the only share that delivered price returns above 30%. LINDEINDIA share price rose to Rs 2,290 from Rs 1,753.
MindTree Ltd (NSE: MINDTREE) and Hindustan Aeronautics (NSE: HAL) were the two shares that delivered 25% price returns during the month. MINDTREE stock rose to Rs 3,627 from Rs 2,894 and HAL reached Rs 1375 from Rs 1098.
BASF India (NSE: BASF), Apollo Hospitals (NSE: APOLLOHSP) and IPCA Laboratories (NSE: IPCALAB)  were stocks that delivered identical price gains of 23%. IPCALAB was the only pharma stock in the top ten list, reflecting waning investor interest in the sector.
Two financial services stocks that made it to list were ironically from the same group. Bajaj Finserv (NSE: BAJAJFINSV) and its subsidiary Bajaj Finance (NSE: BAJFINANCE) also delivered similar price returns during the period, both gained 21% during August.
Tech Mahindra (NSE:TECHM) was another IT Services stock in the top ten list though at the bottom. TECHM delivered 20% price gains during the month of August. Its stock price rose to Rs 1,447 from Rs 1,210.